Breaking Down The Shutdown, Honoring Those "Tough & Kind" & A Star-Studded Stimulus
⭐️ Quote To Start Your Week:
"They're just so beautiful and so gawky."
Amy Davis, associate editor for North American Birds for the American Birding Association, on a "pink wave" of rare flamingo sightings in places like Wisconsin. Some speculate the winds of Hurricane Idalia caused the displacement (dubbed "flamingo-palooza"), but expect the birds to migrate south with the cooler weather.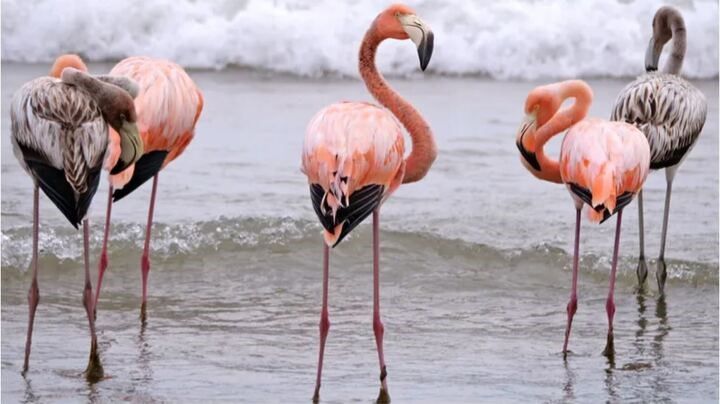 ---
🗓 THE WEEK AHEAD:
Monday: Talks between Hollywood actors and studio representatives set to resume. SAG-AFTRA union members went on strike two-and-a-half months ago; negotiations will restart just days after Hollywood writers and production companies reached a different milestone agreement. In New York, President Donald Trump appears in court for the start of a civil fraud case filed against him and his company. In D.C., the Supreme Court's new term begins. Click here to see major cases on the table. Also beginning today: The 2023 Nobel Prize announcements begin. Two scientists kicked the week off winning the Nobel Prize in medicine for work contributing to COVID-19 vaccines.
Tuesday: Expected to plea not guilty, United States President Joe Biden's son Hunter Biden will appear in a Delaware courtroom to face three criminal charges related to a 2018 gun purchase. The case marks the first time the Justice Department has charged the child of a sitting U.S. president. Meanwhile in sports-related news: The Major League Baseball playoffs begin.
Wednesday: More than 75,000 Kaiser Permanente union workers across the country may go on strike as they request better pay and increased staffing levels. It could become the largest strike of health care workers in U.S. history. Also worth noting: At approximately 2:20 p.m. ET, phones, TVs and radios are set to go off with an alert as the Federal Emergency Management Agency (FEMA) and the Federal Communications Commission (FCC) conduct a nationwide test of emergency alert systems.
Friday: U.S. monthly employment numbers released for September. These numbers help measure the health of the nation's economy. In August, the total number of jobs added was slightly better than expected.
This post is for paying subscribers only