Plus ~ A looming government shutdown and what's at stake.
⭐️ Quote To Start Your Week:
"For us, this was the World Series, ninth inning, bases-loaded moment, and this team knocked it out of the park."
Project manager for OSIRIS-REx at NASA's Goddard Space Flight, Rich Burns, after a space capsule completed its 4-billion-mile journey and returned to Earth with an estimated 8.8 ounces of material from an asteroid called Bennu. Bennu is about the height of the Empire State Building (which is 1,400+ feet tall!); the samples retrieved from it will help scientists around the world to "make discoveries to better understand planet formation and the origin of organics and water that led to life on Earth, as well as benefit all of humanity by learning more about potentially hazardous asteroids" (NASA). The return of the samples on Sunday marked the end of a major seven-year mission and is the first time NASA has retrieved samples from an asteroid.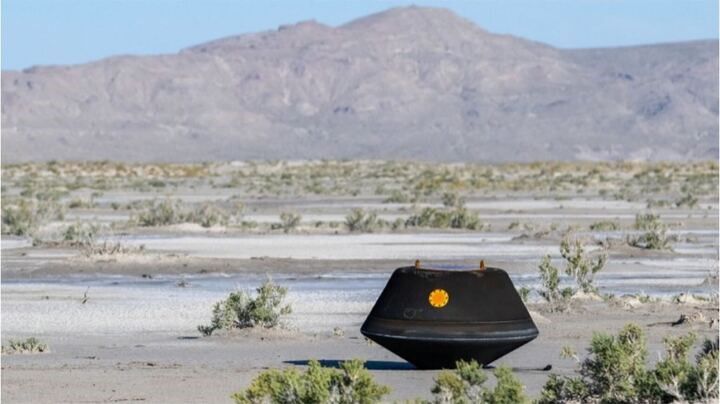 ---
🗓 THE WEEK AHEAD:
Monday: President Joe Biden is hosting a summit with Pacific Island leaders as part of the United States' efforts to strengthen ties with countries in the region (amid rising concerns about China's influence). Also Worth Noting: The federal government will relaunch a program providing free COVID-19 at-home tests. Meanwhile in the fashion world, Paris Fashion Week kicks off. Leading up to one of fashion's biggest events, luxury clothing company Balmain was robbed, however, their show will still go on later this week.
Tuesday: President Biden is expected to join the United Auto Workers union (UAW) on the picket line. This high profile move comes days after another wave of workers from General Motors and Stellantis (parent company of Chrysler, Jeep, Dodge, etc.) went on strike. Ford avoided the recent jump in strike participants, with the UAW president saying the company "is serious about reaching a deal."
Wednesday: The second Republican presidential primary debate will take place at the Ronald Reagan Presidential Library in California at 9:00 pm Eastern Time. The Republican frontrunner, former President Donald Trump, is not expected to participate and will deliver a speech in Detroit "in front of union workers amid a major auto strike, according to a senior adviser" (ABC News).
Thursday: The House Oversight Committee is scheduled to hold its first hearing regarding the impeachment inquiry of President Biden.
Friday: Time to say goodbye to Netflix DVDs, as the world's largest streaming service will send out its final red envelope after 25 years; the company began streaming content online in 2007.
Saturday: The government funding deadline will hit at midnight, marking the beginning of the new fiscal year on October 1st. TBD on whether lawmakers will avert a shutdown leading up to the deadline – more on this in the Cheat Sheet below.
This post is for paying subscribers only